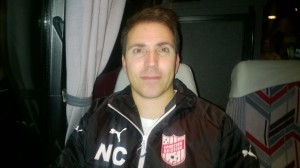 1. Tell us about yourself.
Well, I am 37 years old. I was born and raised in a seaside city called Aveiro in Portugal. It is a city with 25.000 inhabitants. It's really a very nice city to live in.
I would advise everyone that has the opportunity to visit it one day to do so. I assure you that you won't regret it.
I made the most of my education there. I have a degree in marketing, a master's degree in sports management, and at the moment I'm in the middle of a PHD in sports management. In football I have a UEFA B-license.
2. How would you describe yourself as a person?
It's not so easy to describe myself, so you should ask my wife that question :))
3. Tell us about your football career.
I started playing football at the age of 11 in the main club of my city, Beira Mar, and I played there until I was 20 years old. I played one season with them in the Portuguese 1st league (highest level). I was a goalkeeper, but I spent most of the time on the bench. I then decided to move to a smaller club where I would have the opportunity to play more.
I was always able to consolidate my studies with my football. However, at the age of 27 I got the opportunity to go to work for the Portuguese football association in Lisbon and I decided to take the job. That was the end of my football career because it was impossible to work in Lisbon and play football in Aveiro, because the two cities are about 260 km apart. It is a decision that I don't regret because I met wonderful people in the Portuguese FA that have helped me in many ways. In the beginning I worked for the marketing department but by the time of the European Championship in 2004 I had moved to the football department.
I had the opportunity to meet the best Portuguese players at that time. Players like Luis Figo, Christiano Ronaldo, Deco, Coutinho, Rui Costa and Pauleta. After the time at the Portuguese FA I moved to work for Nottingham Forrest as a scout.
4. Tell us about your coaching career.
I started to coach youth teams in Portugal and after that I got the opportunity to coach 1st teams in the Portuguese lower divisions. I also was an assistant coach for Beira Mar in Portuguese 1st league and for Academico Viseu in the 2nd league.
5. What do you think about Kristinestad and Finland?
I just arrived 2 weeks ago so I still don't have a strong opinion about it. From what I have seen so far I think it's a very nice place to live, and all the people that I have met are very friendly and open. For me, being a foreigner it's a very nice thing to have such friendly people, because I feel welcome.

I even told my friends a small episode that happened with me when I arrived to the airport in Helsinki. I have been lucky and have visited around 15-20 different countries, but in Helsinki it was the 1st time, that when I was entering passport control somebody said "welcome". I think it would be difficult to have a better 1st impression about a country than that.
6. Anything that surprises you? Any big differences to Portugal and Portuguese people?
Not really! Except the weather of course…
7. What is in your opinion the most important thing in football?
That would depend on the level you are working at and the culture of the club that you are in. Such as If you are coaching 1st team, or youth teams, the age of the youth teams, etc. Really there are a lot of aspects to take into consideration.
One of the most important things in my opinion to consider is the wish to become better every day. This means a better player; a better coach, and a better team manager, etc. If this is not done one will never be able to achieve their full potential.
8. What should kids learn about football in the age of 5-10?
In my opinion just basic things are most important. These include having a lot of contact with the ball, learning to start to work as a team, to respect all the teammates and the opposite team, and the most important is just to have fun when they are playing football.
9. What should kids learn about football in the age of 11-17?
It's a big age difference between 11 and 17. In my opinion they should try to play in as many different positions as they can, for them to see where they feel most comfortable in.
The under 13 should start to be able to understand and interpret the game.
The under 15 should start to be able to understand the game in all of the different phases (attacking / defending). From the 15-16 they should start to specialize on a specific position and all the learning that comes with that.
10. What do you think about Sporting Kristina and the senior team?
It's a good club, where you can feel the passion and love that the persons involved with it have for the club.
About the senior team, I have had just a few training sessions with the team, so I am still in the learning phase about the players. However, I already have noticed that despite the fact we are a very young team we have players with quality and that is always good for a coach.
11. What are the main things that the team/players need to improve?
I would prefer to discuss this subject inside the team.
12. What is the most important thing in life?
Family, true friends, and happiness.